Technithon
Overview
Technithon Technologies Pvt. Ltd. (TEPL) (formerly Chemithon Engineers Pvt. Ltd.) India, and Technithon International Pte. Ltd. (TIPL) (formerly Chemithon International, Singapore) are both part of the Trivedi Groupe of companies (TG) located in Mumbai, India and in Singapore respectively.
TEPL was established in 1989 and TIPL in 2008.
Both the company offer comprehensive solutions related to:
Technologies and Engineering
Fabrication and Construction
Technical Services
Research and Development
Services
Technologies and Engineering
Surfactants from the sulfonation plants designed and supplied by Technithon are key ingredients in detergents, shampoos, toothpaste, oil additives and other consumer and industrial products.
Our goal is to offer innovative, high quality products and services to meet the needs of our customers through continuous product development, improved quality design and equipment manufacturing, and responsive technical support.
Technithon offers current technology related to six groups:
Sulf(on)ation / Sulfation
TG products. offers technologies for Anionic, Non-anionic, Cationic and Amphoteric surfactants and has expertise in Sulf (on) ation, Sulfation, Alkoxylation Amidation and esterification technologies. TG also has technologies for making Betaines, Amides, Sequestering agents and Surfactant blends used for fabric and home care and for personal wash TG has the capability to
Sulfonate or Sulfate:
Methyl Esters
Olefins
Alkyl Benzene
Alcohols / Ethoxylates
Fatty Acids
Petroleum Alkylates
Acids & Fertilizers
TG has experience and expertise in the construction of Sulfuric Acid plants with derivatives viz, Liquid SO2 and SO3. TG has carried out detailed engineering for a 600 TPD plant for Zaire and can offer Sulfuric Acid plants with capacities ranging from 100 TPD to 1500 TPD. Our Acids and Fertilizer portfolio covers:
Sulfuric Acid & Oleums
Liquid Sulfur dioxide, Liquid Sulfur Trioxide
Specialities
Ethoxylation
Amidation
Quaternisation
Custom Surfactant Blends (Dry)
Oils & Oleochemicals
TG has experience for constructing batch Edible oil plants from Palm Oil, Sunflower, Groundnut and Cottonseed for capacity up to 100 TPD.
TG has also developed a processes for Esterification of oils using a solid catalyst and microwave technologies.
TG offers plants for fractionation of esters and continuous hydrogenation processes using fixed bed reactors and solid catalysts.
TG has a pilot plant for studying process parameters for the fractionation and hydrogenation unit operations.
Environmental
TG has patented technology and expertise for control of particulate emissions from coal based thermal processes and has installed systems to several state owned and private thermal power plants in India.
FGC systems designed and supplied by Technithon are retrofitted to the Electrostatic Precipitators (ESP) for enhancing and collection efficiency and reducing the Suspended Particulate Matter (SPM) from coal-fired boilers, so as to comply with pollution control norms.
Our offerings are:
Flue Gas Conditioning Systems (FGC)
Wet ESP
Variable Area Scrubbers
TG has capabilities for basic and detailed engineering, plant design & process development and field services for piping & installation. Our engineering is done using the latest design softwares of AutoCAD, Pro-E, AutoDesk, PV Elite, ANSYS, Ceaser II and PDMS.
Plant Design & Process Development
Process Instrumentation Design
Basic and Detailed Engineering
Sourcing & Procurement
Plant Installation Services
Plant training Services
Efficiency and energy audit
Process Development and Pilot Plant Studies
Fabrication and Construction
Technithon can take your idea from concept to turnkey. Whether it's one-of-a-kind or mass produced, we've developed efficient, cost-effective methods to produce your custom equipment. We'll also fabricate equipment from your drawings. We design and fabricate equipment for industries such as environmental, pulp and paper, petrochemical, mining and chemical manufacturing, including:
Modular and Skid Mounted Systems
Pressure Vessels
Heat Exchangers
Control Panels and Motor Control Centers
Electrostatic Precipitators
Reactor Vessels
Drying Systems
Dioxane Stripping Systems
Trivedi Group has got a well equipped large fabrication facility (45,000 sq.ft.), which is about 150 km from Mumbai. TG's engineering, technology and fabrication companies have an ISO 9001:2008 certification. The fabrication facility is capable of making equipments and vessels in carbon steel and stainless steel with diameter of up to 5 meters, length of 35 meters and with pressure ratings up to 45 bar and absolute vacuum.
Factory Building
| | |
| --- | --- |
| Main Fabrication Area (3 bays at 12 m. height) with supervisor office & stores | 5500 sq. meters |
| Auxiliary Fabrication Area (5 meters height) | 1500 sq. meters |
The fabrication is carried out as per ASME standards with "U" stamp, PED (EU), DOSH (MY) and BIS standards. The fabrication facility provides cost effective and on-time support for Trivedi Group's technologies and processes.
Custom built machineries
Soap & Detergent Machineries
Continuous Sulfonation Plants for Detergent & Petroleum Alkylates
Pollution Control Systems
Flue Gas Conditioning Plants
Sulfuric Acid & Derivative Plants
Oleochemical Plants
Film Evaporator
Multitube Reactor
Catalytic Converter
Technical Services
Feasibility Studies
Project Planning, Management and Financing
General Contracting on Turnkey Installations
Site Management
Structuring of Project Financials
Technology Sourcing & Support Services
Plant Audit & Retrofits
Personnel Training
Research and Development
Technithon offers leading edge technologies through continued R&D efforts at their pilot plants. Most recent successes include Pilot plants for Oleochemicals and Distillation Columns.
Stainless Steel Water Tanks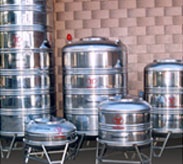 Manufactured for the first time in India out of imported mirror finish stainless steel plates (SS304 2BA) the Trivedi Group stainless water tanks offer the best solution for the storage of potable water with "Zero Retention'' for daily use. The tanks are mounted on sturdy steel frames & come with a complete range of standard accessories & fittings. Loft tanks in 250 & 300 liter capacities also available.
For additional information and technical or manufacturing specifications for the Stainless Steel water tanks please contact us.

Projects
Rohit Surfactants, India
Godrej Industries, India
Grandee Biotech, Malaysia
BASF, India
Sai Sulfonates and Fertilizers, India
Global Chemicals Company, Abu Dhabi
For additional information and details visit our website at www.technithon.com